REGISTRATION AND ACCOMODATION
Congress Package:
3 days accommodation (All Inclusive)
Congress registration fee
Turkey-Cyprus (TRNC) roundtrip ticket (Only determined flights by TÜRKİYEMBİR)
Airport-Hotel Transfer (Only determined shuttle by TÜRKİYEMBİR)

Register
TÜRKİYEMBİR members will get 50 EUR discount for single room accommodation congress package and 100 EUR discount for double room accommodation congress package. This discount is only for 1 congress package.
One day registration and outside participation is not available.
Registration and accommodation applications shall be submitted before 14 April 2023. Registrations will be completed according to payment priority basis, pre-reservation applications will not be accepted
HOTEL ACTIVITIES, CHECK IN – CHECK OUT SCHEDULE
Check in
: after 14:00 on 27th April 2023
Check out
: before 12:00 on 30nd April 2023
ABOUT THE FLIGHT TICKETS IN THE CONGRESS PACKAGE:
Turkey-Cyprus (TRNC) round-trip flight tickets which is included in the congress package, can be selected by the participants from the flights given below.
Flight tickets are purchased as packages and flight requests other than these packages cannot be met.
In accordance with the special agreement with airlines, the given package program can not be changed. Therefore, requests other than the given flight packages will have to be met by participants personally. Thank you for your sense on this matter.
In case the flight ticket is not requested by participants, there will not be any additional discount in the congress package fee.
Since the names of the participants who will benefit from the flight ticket must be notified to airlines in March, you must complete your registration before March 20, 2023. Name changes cannot be accepted after this date.
Registration will be open until April 14, 2023 for the participants who will not request flight ticket.
According to the requirements of TRNC, all participants must send their passport copy to Ultra Tourism.
FLIGHT PACKAGES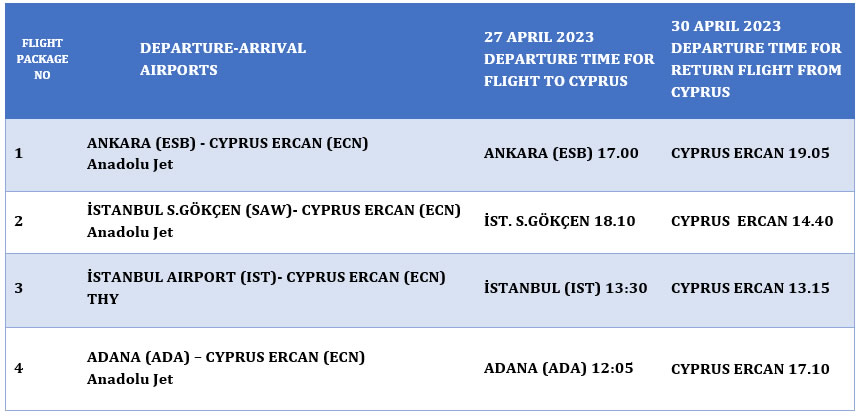 AIRPORT-HOTEL SHUTTLE
Participants will benefit from airport-hotel-airport transfers free of charge according to the determined schedule on the entrance and departure days. Please inform the congress organizer company Ultra Turizm about your travel details (arrival and departure times) at least 15 days before the congress date in order to benefit from the free transfer.
Special transfer requests (out of the determined free schedule) will be charged. The determined free transfer hours will be announced in www.tuyem.com .